Have you seen the pictures or videos of me wearing the "Mia Blue" hearing protection from Howard Leight (H.L.)? Those pretty muffs aren't really called by my name; If you're looking for that specific color you'd look for "teal." I've always loved my H.L.'s and had purple but the new ones match my color pallet so well. Now H.L. has introduced the Honor Collection and they have even more colors from which to choose.
Tell me, which ones are your favorites?
Howard Leight Impact Sport Honor Collection Models Available Now
WESTWOOD, Mass. (August 24, 2020) – When threats arise, our military, law-enforcement officers, firefighters and other first responders rush in, employing their unique skills and training to protect life, liberty and property. The NEW Howard LeightTM Honor Collection of ImpactTM Sport electronic hearing protection is sure to be appreciated by anyone who values our unique, American freedoms. Consisting of three inspiring new colorways – Real Blue, One Nation®, and Smoke – these great-looking, patriotic muffs pay tribute to the heroes who risk everything to protect American lives and livelihoods.
Available now, Real Blue, One Nation® and Smoke Impact Sport electronic earmuffs look as well as they perform. Internal circuitry allows ambient and low-frequency sounds to be safely amplified up to 4X, making it easy for wearers to hear range commands and conduct conversation, even in noisy environments. Amplification automatically shuts off at 82dB, attenuating hazardous impulse noises from gunfire.
Offering a Noise Reduction Rating (NRR) or 22dB, Impact Sport Honor Collection models feature a sleek, extremely low-profile earcup design with carefully engineered cutouts that facilitate the shouldering of a rifle or shotgun while maintaining clearance from the firearm stock. Lightweight and comfortable for all-day wear, Impact Sport Honor Collection models incorporate a padded headband with vertical height adjustments for a secure, non-slip fit. When not in use, the headband and earcups fold for easy, compact storage.
Durable, recessed microphones—one on each side—reduce wind noise while providing stereo sound. Impact Sport Honor Collection models are also equipped with an external 3.5mm AUX jack and an included cord for convenient connection to a phone, computer, MP3 player or scanner.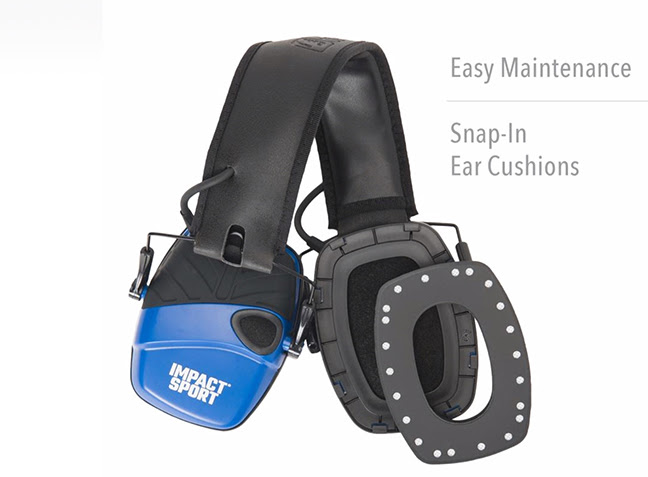 All Impact Sport electronic earmuffs come complete and ready to use with two AAA batteries, which deliver up to 350 hours of use. An automatic 4-hour shutoff feature helps preserve battery life.
Howard Leight Shooting Sports Impact Sport Honor Collection Electronic Earmuff Features
Choose from Real Blue, One Nation®, or Smoke patterns
22dB Noise Reduction Rating (NRR)
Automatically shuts off noise over 82dB
Up to 4X amplification
Sleek, extremely low-profile earcup design with cutout allows for clearance of firearm stock
Adjustable fit
Convenient folding design for easy storage
Premium padded headband
Recessed stereo microphones
Single control knob for on/off and volume adjustment
Efficient power consumption and automatic 4-hour shutoff deliver 350 hours of battery life
AUX jack connects to MP3 players and scanners (3.5mm audio connection cord included)
Powered by two included AAA batteries
Replacement ear cushions available
Howard Leight Shooting Sports Impact Sport Honor Collection Electronic Earmuff Models
NEW One Nation®: Item # R-02530 / UPC: 883940375885
NEW Smoke: Item # R-02531 / UPC: 883940375915
NEW Real Blue: Item # R-02529 / UPC: 883940375946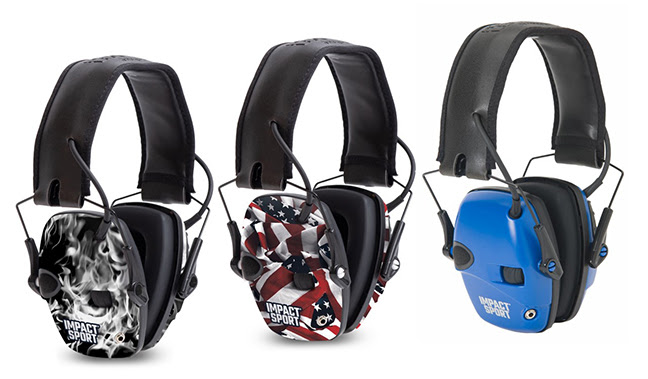 New Impact Sport Honor Collection models are available now at Howard Leight Shooting Sports Dealers and online at howardleightshootingsports.com. MSRP is $79.99.
ABOUT HONEYWELL HOWARD LEIGHTHoneywell Safety Products empower individuals and families across the globe to enjoy more and worry less. Our high-quality hearing and eye protection help people to more safely enjoy the events and activities they love. Our broad selection of comfortable and stylish protective eyewear delivers safety without compromise, many of which meet ANSI high-impact standards and offer UVA/UVB protection. Building on over 30 years of innovation, we're continually developing new designs, materials and technologies to enhance comfort and protection for industry trade professionals, recreational and competitive shooters, DIY homeowners, and all fans of live music and sporting events. Whatever your passion, trust Howard Leight to block out the noise so you can listen to what's important, while staying safely focused on the big moments that matter. Learn more at howardleightshootingsports.com.
Connect with Mia – ►Twitter ►Facebook ►Pinterest ►YouTube ►Instagram
Mia Anstine is an outdoor writer, licensed outfitter, hunting guide, keynote speaker, and a range safety officer, firearms instructor, and archery instructor. She is the founder of MAC Outdoors and Host of the MAC Outdoors Podcast.
Mia Anstine strives to encourage others to outdoors, hunt, fish, shoot, and survive life with others in a positive way.
*Disclaimer: Mia Anstine participates in the Amazon Services, LLC Associates Program, an affiliate advertising program designed to provide a means for sites to earn advertising fees by advertising and linking to www.amazon.com.
**Disclaimer: all opinions are my own, sponsors are acknowledged. Links in the description are typically affiliate links that allow you to support my channel at no additional cost.